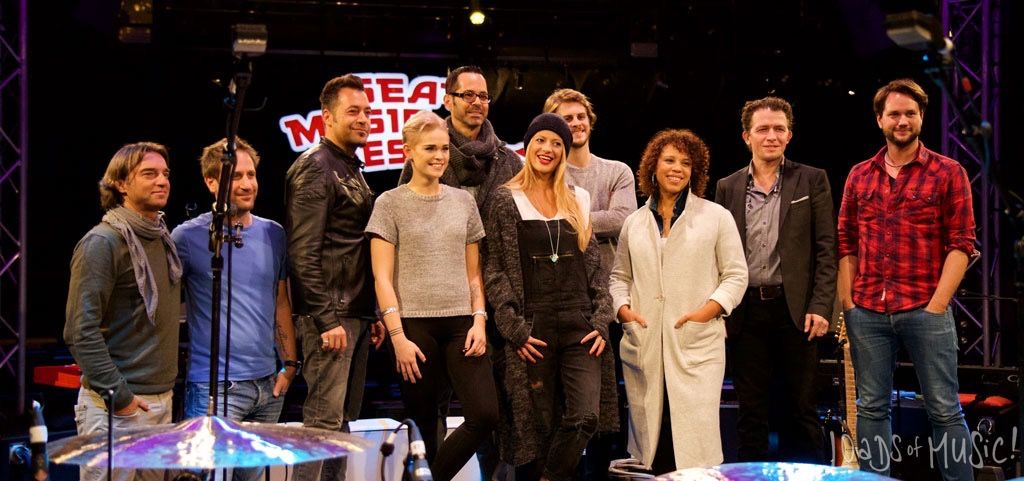 Finally I was able to witness this myself… What an experience! I can tell you one thing: SEAT Music Session has totally blown me away. 
This year is the 7th year that this event, with its unique 360° stage is on tour throughout the entire country. Never have I been able to be so close to the band and the artists, which by the way, have given me the feeling of being part of this show from the very beginning. 
Experiencing soundcheck 
We were lucky enough to have been invited to experience soundcheck as well – thanks to SEAT for the invitation! The reception was super nice and sincere. The girls working there really seemed like a family. They then accompanied us to the venue, where Phil Dankner and his band were soundchecking already. Already during soundcheck I realized, that this will be a great evening with many unforgettable moments. 
After the soundcheck was done, we were invited, together with the SEAT Ambassadors, to enjoy a little aperitif on the upper floor. Immediately my eyes started to glow and my heart warmed up. Not because I was close to starving, nope, the reason for being so happy: the snacks they served were, just like me, Spanish! Tortilla, Paella, a good glas of Spanish wine or a ice cold San Miguel beer. My Spanish heart was happy! 
Let the show begin! 
Right on time, we sat down on comfy lounge stools at 8pm to enjoy this special music-experience. Michael Grimm, the winner of the US casting show "America's Got Talent" opened up the show. With his warm but still somewhat raspy voice, he performed 2 of his own songs and won over the audience in a heartbeat. 
Next up was swiss popsinger Marina Ortega. You could tell that she's comfortable on stage. As her second song, she performed her original song "Eleven". 
Damian Lynn, who was awarded the Prix Walo for "Best Swiss Upcoming Artist", was up next. With just his guitar, a loop station and his voice, he enchanted the entire audience. I haven't known him until then, but I'm sure that he has the potential to be the next best thing, especially with the young girls ? 
Shayna Steele managed to get everyone out of their seats and excited. Her powerful R'n'B voice has helped her get on peoples radar. She definitely isn't a newcomer anymore with collaborations with Snarky Puppy or appearances Jimmy Fallon, Conany O'Brien or at the Grammy's. 
With his passionate voice, with just the right amount of soul, german musician and producer Laith Al-Deen was the last of the 5 artists to go on stage. I was totally looking forward to him, and let me tell you, I wasn't disappointed. His debus single from a few years ago "Bilder von Dir" had everyone singing along. When he sang one of his newer hits "Was Wenn Alles Gut Geht" gave me goosebumps all over. 
We're ready for part II 
After a 30min break, part II was about to start. The same artists went back on stage, this time they performed together, as duo's trio's and at the end all of them together. They covered songs like Adam Lambert's "Whataya Want From Me" or Train's "Drops of Jupiter". 
As an encore and unfortunately last song, everyone came back on stage to perform a little Stevie Wonder medley. The audience thanked them with a great round of applause that almost wouldn't stop. 
I personally thought the show was over way too fast. I have to admit, I had no idea what kind of show I was about to experience and how wonderful the music will be. I was super surprised and am still fascinated. 
The SEAT Music Session is still on tour until November 7th. Most of the dates are sold out already, but there are still a couple left. So go check out their website for more info. I can highly recommend this to you, it really was a great show. Also, tickets for next years tour are on sale already. The 2 first acts are confirmed as well. Johannes Oerding and Levin Deger will be on the 360° stage in 2016. Comment and let us know if you're going to one of the shows or if you've been to one already. 
Once more, thank you SEAT for the invitation, you certainly don't only have great cars, but you've also managed to set up an incredible live-music event. Kudos!